Lighting from Gibson Rental
Click on the thumbnails below to view a larger version of that image.
Perimeter Light
Perimeter Lights or "twinkle lights" are commercial grade lights on white roping that are fastened to the perimeter of the tent. Adding perimeter lights is an easy and cost effective way to add ambiance to the tent setting. $1/ft.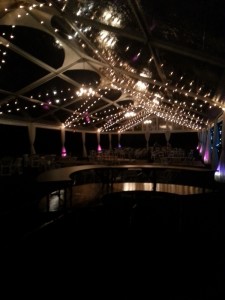 Specialty Lighting
Our specialty lighting is a combination of theatre lighting that gives a distinct theme or mood to your event. Lighting consists of up-lighting, pin-spots, or gobos. With these options, we can customize your setting with colors, designs, and monograms. We carry a full line of LED lights that are low heat and low power consumption. Ask today for a lighting package that is just right for your tent. $35-55 each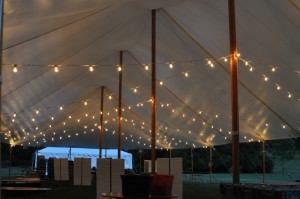 Cantina Lighting
2 inch string lighting 24 inches apart on a 48 foot strand or 100 foot strand. Bulbs are 11 watts each and can decorate under a tent in many patterns. $75/ 48ft strand, $150/ 100ft strand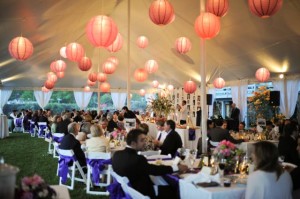 Asian Lanterns
Asian Lanterns come in different sizes and colors. $35 each if individually strung or $12 each if hung on cantina bulbs
48 inch Shepherd Hook
Black wrought iron hooks can be used to hang arrangements or candles to dress up your event. Lantern not included. $5 each
Light Towers Trailer mounted light trees. Diesel powered 6000-watt generator with 4,000-watt lights. $220 each