Tables from Gibson Rental
Click on the thumbnails below to view a larger version of that image.
Round Tables
Round tables come in 3′ (4 guests), 4′ (6 guests), 5′ (8 guests) and 6′ (10 guests) foot round. The 3′ round makes a cozy sweetheart table. The 4′ round is a perfect size for a cake table and the 5′ and 6′ tables work great for guest seating. 3′ and 4′ -$8.00 each, 5′ -$9.00 each, 6′ -$12 each
Banquet Tables
Banquet tables come in 48x30inch, 72×30 inch and 96×30 inch. Banquet tables are ideal for buffets, gift tables, DJ tables, and seating. 4ft $8.00each, 6ft $8.00 each, 8ft $9.00 each.
Farm Tables
These beauties are ready to be used in your rustic farm wedding. 40 inches x 7 feet, they will hold up to 8 guests. Our natural wooden chairs are a great compliment to these tables. $80 each
Pedestal Tables
Pedestal tables come in 30 or 36 inches round and can be adjusted from 30 to 42 inches high. $8.00 each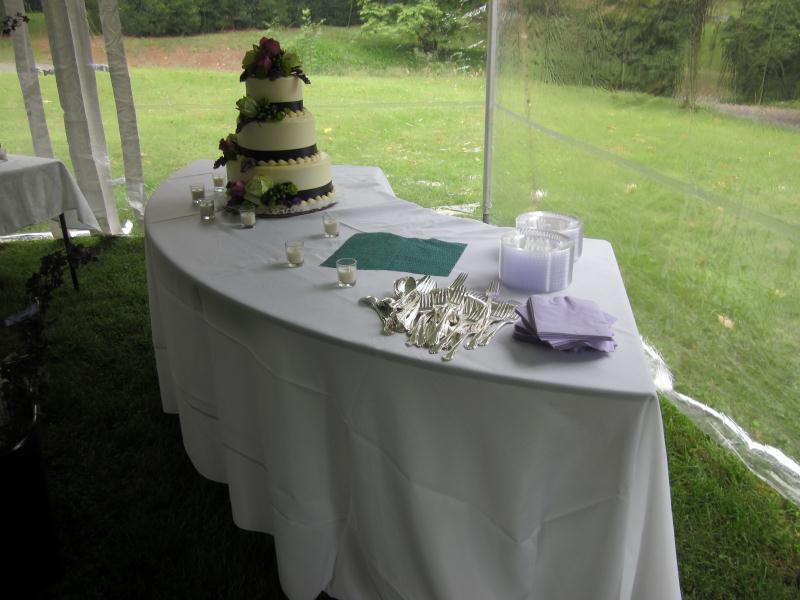 Specialty Items
Serpentine tables are often used for beverage tables, buffets, or for hors'doeuvres. $8.00 each Seminar tables are great for presentations when you need a small area to rest or write on. These tables measure 8 ft. in length and 18 inches wide. $8 each Serpentine, 6 foot and 8 foot banquet bar toppers. These toppers are 12 inches wide and have a 12 inch rise. They give a stair step look to your bar. $8 each Square tables: 48 inch square table $10 each, and 6o inch square table $12 each. Great for dinning, food, cake, and much more. Picnic tables are available for seating 6-8 guests. $20 each.